Seacilff Mental Asylum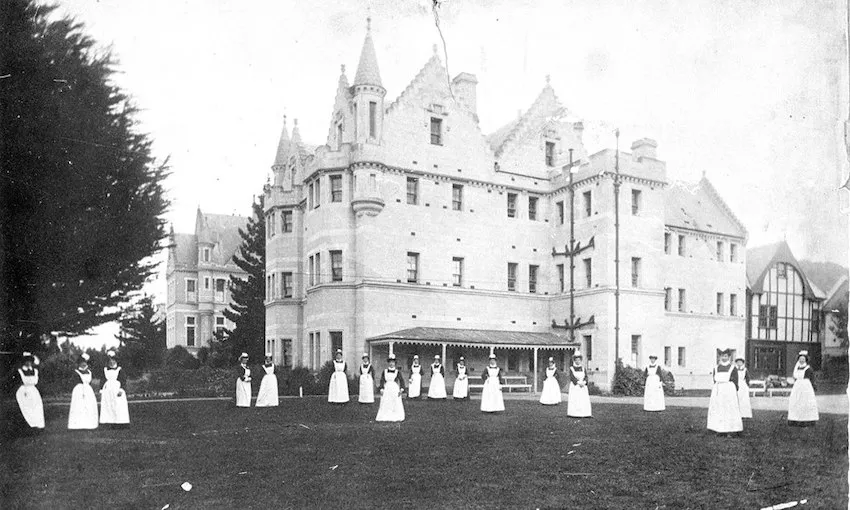 Location: 22 - 36 Russell and Coast Road, Seacliff. Historic Places Category 1
History
In August 1878 the clearing of the land began by patients from Dunedin's 1st Mental Asylum which opened in 1863. Seacliff Lunatic Asylum opened its doors in 1879 and patients from the overflowing central Dunedin Mental Asylum were initially housed in temporary buildings. When complete, the main building used the Scottish Baronial style and was the largest building in New Zealand. Ancillary buildings such as the Stables, Blacksmiths shop and Morgue are thought to have been constructed in the late 1880's or early 1890's.
1889 saw Truby King being appointed as the Superintendent of Seacliff Lunatic Asylum. He believed exercise, fresh air and work to be a healer and therefore there were extensive gardens, woodlands and orchards surrounding Seacliff where patients that were able, grew vegetables and fruits that were served in the Asylum. Truby King was the Superintendent up until 1923 and is better known today as the creator of The Plunket Society. While one can be fooled into thinking this sounds blissful, keep in mind that Electroconvulsive therapy, ice water therapy, insulin therapy and prefrontal lobotomies were all performed at Seacliff Lunatic Asylum.
Above: Dr Fredrick Truby King

Right: Seacliff buildings, staff and workers.
Unfortunately, in 1887 subsidence and structural issues led to a slip which left the north wing of the building uninhabitable. A royal commission of enquiry was held and pointed finger at the architect and contractor as being to blame. Historians have argued this point with one stating that local Maori have said they courted disaster from the get–go as the building had been built over an ancestral burial ground.
1905 saw the term of 'Lunatic Asylum' dropped in favour of 'Mental Hospital' and up until 1948 Seacliff was largely used as a training hospital for psychiatry within the Otago region. Prior to 1911 the only way one could be a patient at a mental hospital was to be committed. A change in the law enabled people to become voluntary boarders at such hospitals. With the change of law came a change of attitude with the less difficult patients being housed in villa styled accommodations.
1930's saw the addition of more buildings such as the new kitchen, laundry and stores block as well as temporary buildings that were designed to be adjusted when the ground moved. Contractors began demolition of the unsafe parts of the main building including the tower.
1942 saw a tragic fire break out in Ward 5 which was the women's area and housed 39 patients at the time. These female patients were locked in their single rooms or in the 20 bed dorm with all the windows closed and only able to be opened by a key from the inside. 37 female patients burnt to death with only 2 being able to escape. The cause of the fire was never determined. You can read the details surrounding this tragedy here.
| | |
| --- | --- |
| | |
| The aftermath of the devastating fire | Original floor plans of the man building |
May They Rest In Peace

Freda Agnes Aldous

Age 30 yrs

Christina Florence Black

Age 29 yrs

Elizabeth May Gibson

Age 48 yrs

Margaret Ellen Gordon

Age 70 yrs

Rita Alexander

Age 28 yrs

Marjorie Constance Blakely

Age 32 yrs

Grace Helena Harrison

Age Unknown

Edna Grace Law

Age

Helen Ellen Brown

Age Unknown

Violet May Lyons

Age 49

Agnes Ruth Cross

Age 32

Jane Manly

Age 49

Frances Marjorie Cummings

Age 44

Marion Donaldson

Age 57

Isabella Elizabeth McQuarry

Age 27

Ivy Ruth McSwain

Age 44

Annie Douglas

Age 27

Edith Montgomery

Age 31

Violet Fowler

Age 44

Anna MacKinnon Moore

Age 42

Sarah Ann Morris

Age 62

Matilda Ann O'Brien

Age 41

Fanny Louisa Osborne

Age 71

Alice Owens

Age 30

Margaret Stewart Parry

Age 51

Alice Isabella Mary Sinclair

Age Unknown

Mavis May Stott

Age 23

Mary Elizabeth Stewart

Age 66

Rachael Sutton

Age Unknown

Agnes Sybelle Tapp

Age 23

Margaret Hamilton Thompson

Age 30

Margaret Palmer Thorpe

Age 62

Eilene Warring

Age 33

Emily Catherine White

Age 36

Catherine Wilson

Age 46

Mary Elizabeth Wilson

Age 50

Frances Maria Winslade

Age 53
Seacliff saw it's fair share of tragedy. Read about futher deaths we have uncovered here and here. It seems escaping from Seacliff was not too difficult with Lionel Terry having escaped as well as other patients. You can read a further newspaper article regarding an escape here. Seacliff was also not soley used as a mental hospital. There were elderly senile patients who were also housed within it's walls and you can read about that here. Also accommodation was built for those returning soldiers suffering from 'shell shock' (PTSD).
1945 saw the nearby Cherry Farm chosen as the site for a 'therapeutic' mental institution. It was originally thought that Seacliff would continue to house the more difficult or dangerous patients however the buildings were becoming unsafe. In 1959 the central block main building was demolished and took 18 months to complete. Seacliff stopped admissions in 1964 and recorded an all-time high of 1,365 patients housed between its walls in 1965. The early 1970's saw Seacliff cease operation all together and demolition of the remaining buidings began in earnest.
Seacliff housed some infamous and famous New Zealand individuals. Lionel Terry was one of those considered to be 'infamous'. Terry killed a migrant Chinese man, Joe Kum Young and was believed to be a white supremacist. He was originally sentenced to death which was then commuted to life imprisonment due to mental insanity. He spent time in Lyttleton prison before being diagnosed as a paranoid schizophrenic. He was moved to Sunnyside and kept in solitary confinement between 1909 and 1914. He then moved to Seacliff and spent his time in a suite of rooms writing poetry, painting while keeping pet goats and sheep. He assaulted a doctor attempting to give him a Typhoid injection and was returned to solitary confinement where he spent the last 12 years of his life until his death in 1952 aged 79 years. His pet goats and sheep were slaughtered. His remains are buried in Dunedin.
(Edward) Lionel Terry
06 January 1873 - 20 August 1952
Janet Frame
28 August 1924 - 29 January 2004
The most 'famous' resident would be Janet Frame, New Zealand writer of novels, short stories and poetry. She spent a number of years at Seacliff as a committed and voluntary patient (as well as Avondale Hospital in Auckland) and credits her win of a writing award leading to Seacliff's Superintendent of the day, forbidding her scheduled prefrontal lobotomy! There is a memorial dedicated to her in the wooded forested area, commonly referred to as the 'Enchanted Forest'.
1996 saw the remaining buildings sold into private ownership where they remain today. These consist of the morgue (which suggests a pre-1900 construction date), the kitchen block, laundry, motor garage, blacksmiths shop, administration block, boiler house and isolation cells (where only 2 cells now remain).
The rest of the buildings were located on what is now the Truby Reserve and the foundations of the main building and some others still remain and can be clearly seen amongst the grass.
Hauntings
Our research has not uncovered much in the way of reported or 'first hand' accounts of hauntings or ghosts at this location. Although it is said that many explorers have seen the ghosts meandering through the grounds of the Truby Reserve on occassions. Andrew Smith who runs Hair Raiser Ghost Tours in Dunedin, says whether day or night, the location has the strangest vibe and it's the spookiest location he has ever been to.
Research Status: Complete
Have you experienced something you can't explain at this location? Leave us a comment below. Your email will not be published.