K9 Division
Here at Quantum, we take on a number of projects both short and long term. Our K9 division is one of our long term projects and is headed by team member Suzie Cromb who is experienced to run such a project, with qualifications in Dog Behaviour and Dog Handling.
So what is our K9 project?

We know dogs are being used as a means of support for those who are diabetic and/or prone to such things as seizures or epilepsy. These dogs are trained to be able to detect when blood sugar levels are low or their owner is about to have a seizure. It is believed they do this through their sense of smell. They are also being trained to sniff out certain types of cancers in patients and have an astounding hit rate in this area.

There are various theories out there in the paranormal field and one of them is that certain animals are susceptible to some types paranormal phenomena such as hauntings and spirits, and the energies that come with, or change with, the advent of such an occurrence. Dogs are one of those animals that are thought to be somewhat sensitive in this area.

We are testing this theory by undertaking a 5 year research program while documenting the results through the means of audio and video captures. Not only are we testing whether or not dogs are susceptible and able to pick up on changes in the environment due to spirits or hauntings being present but we are also testing our theory that like people, certain dogs are more susceptible than others to these energies.
It is for that reason we are utilising a number of dogs in our research and the ones listed below are our 'Team A' members.

Please note: Our testing is not harmful or invasive in anyway and no animals are physically or emotionally hurt during our testing process. Our process involves watching the behaviour and body language of the dogs and how they react in certain situations by skilled and trained individuals. We have a Vet Nurse and 2 Human First Aiders on our team and the dogs well being and health whilst on location, is our primary concern. They are beloved family members of Quantum's own team members.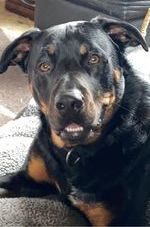 Rocky
Hi! My name is Rocky and I'm a 15 month old Rottweiler cross and part of the Quantum K9 team.
The humans are researching whether or not dogs can pick up on spooky stuff. I don't know about that but I have a great nose and just love smelling all the new places!! Aunty Suzie will be the one observing me while I work so I must remember not to get distracted by all those lovely smells!!
I'm just happy to be by Mum's side instead of being left at home and really hope I can be of benefit to the team while on investigations.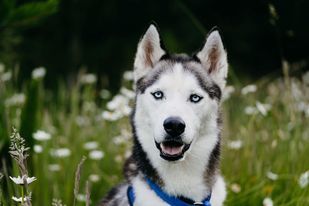 Tyson
Hi I'm Tyson, and I'm a Siberian Husky and part of the K9 team.
I'm very much a Mama's boy (Suzie) having been adopted from Husky Rescue 3 years ago.
I'm quite a handsome fella and Mama and I go on a lot of adventures and do lots of training together and I like nothing better!!
I have a special connection with my Mum, and I'm hoping I can help the wider Quantum team with some of their investigations into that ghosty stuff!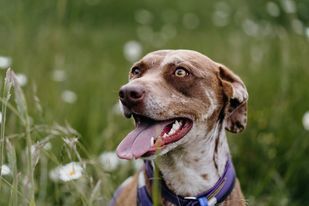 Shelby
Hey!! I'm Shelby and I'm a Catahoula. Also known as Cuddles or 'The Racehorse' and the baby of Mama's pack. Suzie is my mama too!
I can be easily distracted, and love kisses, cuddles, food, and belly rubs. But I'm also a really good girl.
Mama says I sometimes see things that are not there so she is teaching me how to communicate this to her when I see or hear something.
I'm her little racehorse - I sled race with Mama and Scout usually, as well as being her hunting dog, and her baby - I sleep in her bed ;)