Waikino Hotel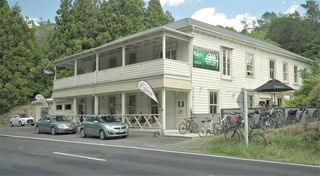 May 2022
This location is part of PROJECT 22 which is a series of investigations undertaken at this location over a period of 24 months. We love visiting our second home and view the staff and management like family now. In fact, if we are away too long, withdrawals set in so I an assure you we will be back off there very shortly! For this investigation one of our new Trainee's, Melinda, joined us as well as our Investigators Morgan and Lisa from Wellington. This time we spent 2 nights investigating the Hotel and the old gold miners boarding house.
The Investigation
The first night we investigated our accommodation, the old gold miners boarding house. This has been renovated and is now used as accommodation. It comprises of a open lounge, dining and full kitchen with 4 double rooms and a further open room with double bunk beds by the bathroom. The accommodation sits atop of the hotel and looks out across the road to the Victoria Battery site. We set up IR cameras throughout the property and had someone manning them during the investigation. EVP sessions were conducted in each of the rooms using 2 audio recorders as well as the static camera audio.
The second night saw us mainly investigating the upstairs of the hotel. The Manager came down and we conducted a few EVPS downstairs but we were dedicating ourselves to the upstairs of the building on this occassion. We had the building to ourselves so set about blanketing the upstairs with our static IR cameras
Investigation Status: Ongoing

Any questions you would like to ask us? Please feel free to comment below. Your email will not be published.