Seacliff Mental Asylum Buildings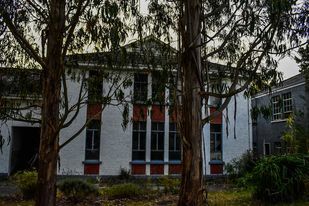 April 2022
The Reserve
Seacliff Mental Asylum spanned what is now the Truby King Reserve, a nearby farm and another property which houses the remaining original asylum buildings. Before we took our tour of the buildings (see below) we decided to take a walk through the reserve to view the foundations of what was once a sprawling institution. We visited the memorial that has been erected to commemorate the 37 female patients who burnt to death in the tragic fire at the asylum and payed our respects. We also had time to meander through what is called the 'Enchanted Forest' which houses a memorial plague to author Janet Frame who spent time in Seacliff Asylum as a patient. Below are some of the pictures we took while we were there.
You can read about the history of Seacliff Mental Asylum on our Haunted NZ page.
Our Tour
On our investigative trip to Dunedin, we were priviliged to have been given access and a full tour by the owner of the remaining buildings of Seacliff Mental Asylum. These are located on private property and are privately owned by a wonderful couple who are setting about restoring them back to their original state as much as they can. There are no colour photographs available of how the buildings were originally, so at times they are guessing and making some creative judgements around that. Everything they do has to be able to be removed as per The Hertiage Council ruling. This is a huge undertaking as there are numerous buildings and some of them are absolutely massive! Alot of them are still full of asbestos which means they are uable to be entered, however this is slowly being removed to enable restoration to take place. Needless to say, this is a long term project they have undertaken but they are making progress. A building has been formerly restored prior to their ownership with another two having been completed by the current owners.
Please note: Do not trepass on this property! There are CCTV everywhere and a number of guard dogs present. The Quantum Foundation does not support anyone attempting to gain access to any privately owned locations where premission has not been sought!!!
We began our tour by entering the building that was originally used as the Blacksmiths and built in 1860. The exterior of this building is stone and has been beautifully restored. The interior is massive and asbestos removal was undertaken prior to the current owners arrival. There is someone residing in part of the building at present. The inside still contains the original smithy's forge as well as a lamp which was purchased at a second hand store and allegedly part of the original Seacliff Mental Asylum operating room. The building contains a huge attic space where out of town contractors used to stay when they attended Seacliff to undertake work. This building is now rented out for weddings. The third photo shows the courtyard where a building once stood in the middle but it was demolished prior to the site being certified by the Hertiage Council. The original birdhouse still remains however.

| | |
| --- | --- |
| | |
| | |
A number of years ago and under a previous owner, there was a backpackers operating here which was in the main house. This was part of the original asylum but had previuosly been moved on site from a dam. It is now split into 3 seperate dwellings and is occupied by musicians and artists.
We then made our way towards the gardens and a gorgeous chicken coup which contained rescued ex battery hens who were now living their best life. The chicken house name was the 'Eggsylum' which was painted above the entranceway and we got to meet one of the chickens named 'Truby Queen' after the Superintendant of Seacliff Asylum - Truby King. Hidden amongst the trees and foliage was a gorgeous but somewhat ominous looking building which was the original Morgue of the asylum. We managed access into a gloomy darkened room of which a further room was attached. While no tables, benches or any other furnishings remained, the drains were still in the floor. This is the only place that the owners find creepy but that could be to do with the fact they know what it was used for as in the 4 years they have owned the property they have never experienced anything that could be remotely considered as odd or paranormal.
We then moved onto a beautiful large white building which was constructed in the 1920's and was used as a mullit purpose builing housing the asylums sewing rooms, bathing house, kitchen and sauna rooms. Unfortunately parts of this building were still full of asbestos so we did not venture inside. The original boiler room also remains within this building. Another large building housed the laundry and is still home to 20 classic cars from the previous owner. Again, due to asbestos still residing in the building we were unable to take a look inside. There also remains the original garage as well as a workshop. Both have had the asbestos removed and the garage has been restored and is used to house the owners business. The workshop still remains as a workshop to this day.
Our final stop was the original asylum Isolation cells. Once a long block of cells, all that remains now is 2. Previous owners dismantled them and moved the remaining 2 up to the top of the property. The current owners still possess the remains of the other cells which are stored onsite. The remaining 2 cells were used as a tack room by previous owner/s to house saddles and the like. It is alleged these were used for short-term incarcerations.
The Quantum Foundation would like to extend our gratitude to the current owners for the invitation for our team to view these historical buildings. We can't thank them enough for their hospitality and wealth of knowledge that was shared with us throughout the tour. We are hoping to return in the not too distant future.
Investigation Status: Closed
Any questions you would like to ask us? Please feel free to comment below. Your email will not be published.